There are several ways you can contact Attitude Custom Painting , you can visit us in person (see map below), you can contact us by "snail mail" using our address below, call us, or you can contact us by filling out the following form.
HOURS -

Monday- 7:30 - 4:30
Tuesday- 7:30 - 4:30
Wednesday- 7:30 - 4:30
Thursday- 7:30 - 4:30
Friday- 7:30 - 4:30
Saturday- 8:30 - 11AM some Sat or by appointment
Sunday- Closed
If you do plan on coming over, please be sure and call first just to confirm we will be there at that time.
727- 527 - 8275

Please note : If you are calling for emblems. All we have are already for sale on Craigslist.
Most ot the emblems listed on this page are either emblems I've dealt with or emblems being sold by ebay sellers. If they are toward the bottom of the page, these are sold by ebay sellers. You will need to click on the photo in order to either purchase or contact the seller.
Info is also on the emblem page as well.


Attitude Custom Painting
6565 44th St N
Unit 1011
Pinellas Park, Fl 33781
727-527-8275

If coming over, please see the images below

Attention Painters and bodyshops - Please do not call us and ask us for color codes, mixes, type of paints we used, tips....as we are extremely busy. We've been averaging 3 of these calls a week, and I'm sorry, but we just don't have time to discuss 'how-to' and 'what color' questions . If you are a newbie, possibly our 'Custom Paint Forum' can help you out. This is a forum I started 10 years ago
Need an estimate?
Contact Us Form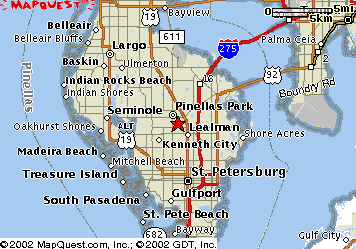 Map courtesy of
Mapquest
.


Map courtesy of Mapquest
Click here for larger satellite image you can print out
NOTE: Do not rely on GPS as this will send you on the other side of the wall behind us. You will need to come in off 62nd ave and 44th St

Building 10 is actually building "1"

Attitude Custom Painting
6565 44 St N.
Suite 1011
Pinellas Park, Fl 33781 See map and get directions to our shop (opens in separate window)
Local Customers (within FL)


From Clearwater area---
Go south on McMullen Booth, which will turn into 49th st in St Pete.
Turn left on 62 Ave N. Go to 44 St, turn left.
You will be within "Enterprise Business Park"
At the first main right - take that right. (You will be passing a pond on your right)
Go ALL the way down to the mailboxes.
Turn Left (the only way you can go)
Go through the stop sign
Look for a "<---- Attitude Custom Painting" sign in the ground.
We are the second unit on the right (Unit 1011)

From St Pete and South---
Take 275 North until you get to 54th Ave N exit. Get off at this exit, head west (left).
Take 62nd ave n to 44th St.
Turn on 44th (can only go right) - You will be within "Enterprise Business Park"
At the first main right - take that right. (You will be passing a pond on your right)
Go ALL the way down to the mailboxes.
Turn Left (the only way you can go)
Go through the stop sign
Look for a "<---- Attitude Custom Painting" sign in the ground.
We are the second unit on the right (Unit 1011)

From Tampa--
Get on Gandy bridge. Keep going west. Get in the right hand lane.
*Do not go over the overpass*, you want to veer right, and turn left *under* the overpass.
Go to 62nd Ave. N, turn right
Take 62nd ave n to 44th St.
Turn on 44th (can only go right) - You will be within "Enterprise Business Park"
At the first main right - take that right. (You will be passing a pond on your right)
Go ALL the way down to the mailboxes.
Turn Left (the only way you can go)
Go through the stop sign
Look for a "<---- Attitude Custom Painting" sign in the ground.
We are the second unit on the right (Unit 1011)

If you *do* go over the overpass---
Go to 49 St, and make a left.
Head south on 49th st until you get to 62nd Ave N.
Take 62nd ave n to 44th St.
Turn on 44th (can only go Left) - You will be within "Enterprise Business Park"
At the first main right - take that right. (You will be passing a pond on your right)
Go ALL the way down to the mailboxes.
Turn Left (the only way you can go)
Go through the stop sign
Look for a "<---- Attitude Custom Painting" sign in the ground.
We are the second unit on the right (Unit 1011)

From West of Tampa (Orlando)--
Take I-4 west to 275 South, get off the 54th Ave North exit and head west (right)
Take 62nd ave n to 44th St.
Turn on 44th (can only go right) - You will be within "Enterprise Business Park"
At the first main right - take that right. (You will be passing a pond on your right)
Go ALL the way down to the mailboxes.
Turn Left (the only way you can go)
Go through the stop sign
Look for a "<---- Attitude Custom Painting" sign in the ground.
We are the second unit on the right (Unit 1011)